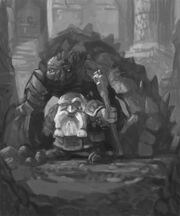 This patch was released the 22nd July 2013 and addressed the issues mentioned by the testers regarding version 1.0.1 It also contained a substential amount of new content to be tested. It is the second patch of the pre release beta.
- slightly reduced the amount of items being spawned on the map
- Fixed a bug where on some rare occasion items would be deleted from the map.
- Fixed cave stash top left item unlootable.
- Tarask is now activable and will roam the world eating and destroying stuff.
- Updated item spawn table in castle and tower.
- skeletons does not cause fear anymore
- Half the game got proof read by my smoking hot gf for grammar issues
- Added a space after the amount of days when you roll over with your mouse on the statuses text
- 6 new spells added - Corrected few sounds for missed actions and failed actions.
- Amor value for mask is now 0
- Merchant guild placeable
- Ruins placeable
- Gygax shrine chain praying disabled
- Can't deploy a tent when fighting
- Surf board not broken anymore
- Mithril sword fix
- You can lvl up when using ring now
- Unlock vicking at lvl 6 works
- Hammer description fixed
- Pelt loot unborked
- Princess txt fixed
- World events are now logged
- about 12 new items (most of them are Bersimon's suggestions with a pinch of urb spices, this said if other items need to be suggested or have been forgotten let me know)
- Dwarven boot txt reflecting actual stats
- Horses!!